REPLACE FTP
---
If you've ever had to transfer large files over a network (like the Web), then you've probably shared a dream with us: finding a way to replace FTP. Well, dream no more! Now you can forget about the hassle of using FTP to store or send large files and start enjoying the simplicity of FilesDIRECT.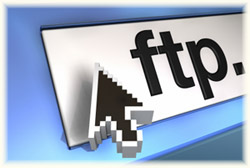 With the ability to upload files of nearly any size in just one click, FilesDIRECT is the perfect way to replace FTP. Backed by secure 128-bit SSL encryption, FilesDIRECT is perfect for both personal or business use. Whether you need to send large images, video, audio, or documents of any kind, FilesDIRECT offers a plan that's right for you.
Additional features that make FilesDIRECT the ultimate way to replace FTP include:
Customizable upload page ("dropbox"): every FilesDIRECT user gets their own web page that allows others to send files to them - absolutely free. Our easy-to-use "customization wizard" makes it simple to change the page to match your brand: upload logos, change colors, text, and more.
Windows & Mac friendly - in fact, it works with any OS. How? Because FilesDIRECT runs through your browser, there's no software to download and no compatibility issues.
Track files & downloads in real time: our robust tracking lets you know who has uploaded or downloaded large files and when
Eliminates the security risks of FTP: File Transfer Protocol is known for leaving easily-exploited holes in a network's firewall. With FilesDIRECT, your files (and your network) and safe and secure.
No servers to maintain: one of the biggest benefits of FTP replacement is that neither the sender or receiver of a file needs to be running a server, which is both a large expense and requires IT staff to maintain. FilesDIRECT lets you send your files securely through our servers, saving you money and frustration.
All these features (and many more) can never be matched by an outdated protocol like FTP.
It's time to leave the 1970's behind - try FilesDIRECT's solution to replace FTP free for 30 days and experience the difference for yourself.